Good news – AoME + GIC =...
1

JC: Does Magnesium work in ast...
3
Posted by Natalie May | 3 Comments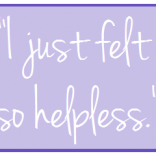 There is so much I could write about the role and value of our own humanity in the Emergency Department although much of it has been said before by people far wiser than me. But there are situations when we are caught offguard; when things don't go as we had hoped, or when they do  -but a powerful and unexpected emotional reaction is evoked. For many of us, as Emergency...
Read More