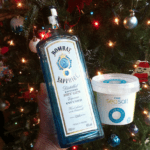 I'm always on the look out for RCTs relevant to emergency medicine and I have an automated search set up in PubMed to bring any to my attention (does everyone do this, or is it just me?).
Anyway, this week the alert came up with an RCT on the use of IV fluids for alcohol intoxication. This is clearly of interest during the run up to Christmas in Virchester. The Christmas parties have begun and the nights (and days) in the ED are characterised by the inebriated. Many patients are not really ill, just too drunk to go home so a short stay in the ED or on the clinical decision unit results. This takes time and resources so wouldn't it be fab if we could sober them up faster. For many docs the overwhelming desire to 'JDS' (Just Do Something) results in an IV line and a bag or two of IV fluids….., but does this work?
Back in 2003 a BestBet published on the topic concluded that….
There is no good evidence to support the use of IV fluids in resuscitation of patients with uncomplicated acute alcohol intoxication.
Despite that BET and the lack of any local protocol we still find people hooked up to IVs which may make little difference beyond filling their bladders up enough to precipitate urinary incontinence. This in itself creates even more work for the  nursing staff so we really should consider whether it's worth doing.
Anyway, back to the paper, an RCT on the use of IV normal saline in acute alcoholic intoxication.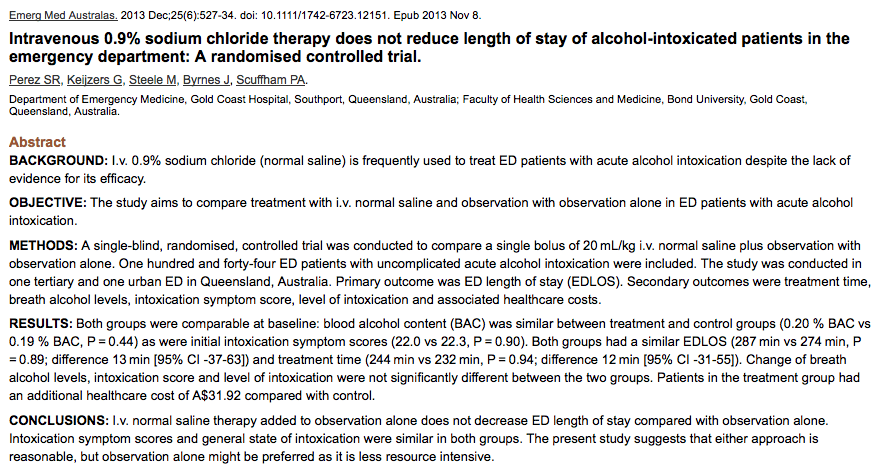 So, this trial is an appropriate design (RCT) to test the intervention and although single blind (as it would be rather difficult to blind the use of IV fluids) it should still give us a reasonable answer.
Patients were given a 20ml/Kg infusion of IV normal saline in the treatment arm of the trial. So, about 1400ml in a 70Kg patient.
144 ED patients were studied which is a relatively small proportion of the 625 patients who presented with alcohol intoxication as a primary diagnosis. Many were excluded on age (<18 or >50), the others on co-morbidities leaving a group of 'pure' alcohol intoxications. That's fair enough but should be remembered when we consider the applicability of the results.
Simply put there was no real difference in the length of ED stay. On average there was a difference of 14 minutes which was not statistically significant or clinically important. It is a small study so we should also look at the confidence intervals and these are indeed wide. The 95% confidence intervals for the difference extend from 37 minutes in favour of IV fluids vs 63 minutes in favour of simple observation.
There were no significant differences in cost either (though the methods of calculating this were sketchy).
Although this is a small study and there are a few methodological issues it is further evidence that IV infusions of fluid in the ED for alcohol intoxication are probably not worth it.
vb
S
Conflict of interest – on call tonight and anticipating many Christmas party casualties.